Summer Sailing 2021
What Boat Will My Young Sailor Use?
The Optimist, also known as the 'opti' or 'oppie', is a small, single-handed sailing dinghy intended for use by children. It is one of the most popular sailing dinghies in the world, with over 150,000 boats officially registered with the class and many more built but never registered. The dinghy is especially good for children learning to sail and it is what we use for summer sailing at MYSC.
The Optimist is recognized as an International Class by the World Sailing and as such there are a multitude of competitions both national and international which your young sailor may wish to participate if they decide to continue the sport.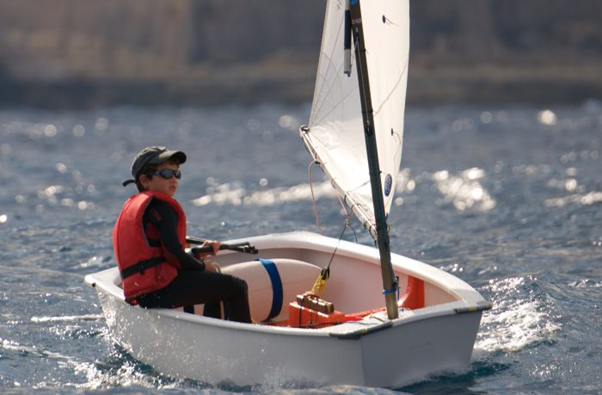 What Will My Young Sailor Learn?
Making the decision to enroll your child in our summer sailing program at MYSC can be great for both their physical and mental well-being. A few of the many benefits of sailing are:
responsibility and respect for the environment;

water safety: how to avoid collisions

character education: sailing requires perseverance and following rules;

learn teamwork;

self-esteem and confidence by piloting their own craft;

spatial awareness;

physical coordination;

important habits: children learn how to keep their boat tidy, how to properly rig and unrig a boat, how to put things away in the right place;
MYSC is particularly proud of its success in teaching children to sail, and this has resulted in many international successes.
The main topics to be covered during the course include:
Understanding the Role of the Coach

Rigging the Boat

Sailing Techniques and Manoeuvres

Capsize and Recovery

Safety

Sailing theory and Background

Meteorology
This course is taught using both classroom and practical training on the water. Beginners may sail two in a boat with sensitivity shown to each student on how much time each sailor spends in the sailing dinghy and on the motor boat with the instructor.
Most importantly, your young sailor will end up having fun, learning life skills and performing an active sport.
Safety
MYSC has been teaching children how to sail since the early 1990's. As such we have honed our procedures, instruction and safety to minimize any issues. Sailing is a sport and as such sporting injuries may occur, however we are proud of our record, especially during our summer sailing programme.
Each group is never too large, and depending upon size will have at least one coach, one instructor and several helpers. The coach has overall responsibility for the group. A coach is an experienced and more mature member of our staff, is qualified in sailing, first aid, licensed for powerboats and usually have other relevant qualifications. The instructors are also qualified sailors and are there for additional instruction and supervision, especially when out on the water. Our helpers are usually around 16 years of age and have many years of sailing experience on the Optimist. They are focused on assisting teaching during rigging and de-rigging and also have a valuable role on the water, as they are able to hop-in and out of the sailing dinghy with the young sailors to assist them with instruction.
All young sailors will wear a life jacket whilst on the water, irrespective of whether they are in a motor boat or a sailing dinghy.
Each motor boat which acts as safety contains a first aid kit and we have a more comprehensive first aid kit on land at our sailing club. We also follow a code of conduct to ensure that all participants whether they be MYSC staff, parents or young sailors have a successful outcome. This is something which you have read and signed up to when applying for the course.
Where is the School Located
Where Will They Sail and Can I Watch?
Summer Sailing is based at our club house in St Paul's Bay next to the primary school on the road Sqaq Tax-Xama', St Paul's Bay. A map is shown on the right and you can find us on Google Maps.
All theory lessons will take place at our premises adjacent to the slipway. The sailing boats are launched from the slipway and sailing is performed in and around the bay between our sailing school and Mistra Bay depending upon wind direction and conditions.
As parents, we are more than pleased for you to stick around if you wish. You may view the young sailors from the promontory by our club or from the bar/café a little further down the road.
Although we ask you to be on time for collection at the end of the lesson, we will never leave your young sailor unattended if you are late for any reason.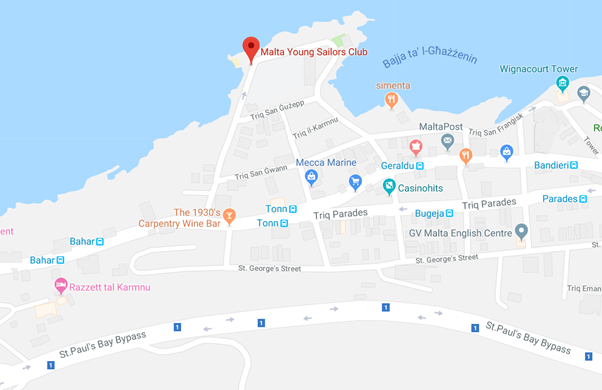 Sailing and Covid-19
Sailing and Covid-19
Sailing is one of the safest sports that can be practiced, as it provides natural separation on the water. This year, to cater for the safety of all children and in line with the regulations currently in force we have divided classes into a number of groups, each group having no more than 10 sailors, the maximum class size permitted. The groups will have their classroom training held in a separate area to each other. They will launch and retrieve their boats at staggered times to minimize congregations of children at any single point. Children in one group must stay in their group to minimize interactions.
MYSC usually provides life jackets for all sailors, however due to COVID regulations we strongly recommend that each young sailors owns and retains their own. Life jackets can be purchased from many boat/sailing outlets as well as stores such as Decathlon.
It is also important that you drop your young sailor off on time and also collect them on time, merely to minimize the chances of groups mixing.
Course Details
What Does My Young Sailor Need to Wear and Bring?
Our aim is to make summer sailing easy and affordable for the parents. MYSC will supply the instruction and boat. We usually also provide a life jacket, however due to Covid, we recommend that the sailor has a life jacket of their own. We suggest your young sailor has the following:
Cap

Bathing Costume or Swimming Shorts

UV top

Shoes such as swim shoes but not flip flops

Sun cream

Water
Your young sailor may also want sunglasses and a snack.
Is there a Course for the Ability of my Young Sailor
We offer a number of courses throughout the summer which are categorised by ability:
Beginners Course – this is for children from 8 years till 15 years who have never sailed before or have little experience or who have only done one course more than 2 years ago. They will be taught all aspects of safety, boat and sail parts, boat rigging and sailing techniques which will enable them to handle a sailing boat by themselves at the end of the course.
Advanced Course – this is for children up to 15 years who have sailed at least one summer sailing beginners course the previous year. The course reminds the sailor of their previous experience and extends this with additional learning experiences to increase proficiency.
We also offer courses for our year-round sailors in our groups A, B and C categories, as well as Laser Dinghy sailing and Windsurfing Beginners and Windsurf Foiling.
Timetable, Courses, Price and Dates
When is it and How Much Does it Cost
Our Beginners and Advanced summer sailing courses consist of 18 sessions, twice a week with each session being of four hours duration.
We have also offered Windsurfing lessons to and provide 9 lessons, once a week.
Summer sailing courses commence on Monday 28th June to Friday 6th August (2 sessions per week totaling 12 sessions lessons in this period of 4 hours each) and after a short break from 9th August to 13th August, the courses recommence on Monday 16th August to Friday 3rd September (2 lessons per week totaling 6 lessons in this period of 4 hours each).
The total cost of the 18 session course for Beginners or Advanced is €395. The cost for Windsurfing is €200. The total cost for Group A, B and C additional 18 session course is €395. Payment is not required on application but will be required on course confirmation.
Select one course most applicable to your sailor.
Beginners Course – this is for children from 8 years upwards who have never sailed before or have little experience or who have only done one course more than 2 years ago. We have 8 beginners classes available. There are two sessions per week for each course.
Advanced Course – this is for children up to 15 years who have sailed at least one summer sailing beginners course the previous year. We have three Advanced courses available. There are two sessions per week for each course.
Windsurfing Beginners – this is for people of all ages who would like to learn windsurfing. There is one session per week.
Windsurfing Foiling - – this is for people of all ages who are proficient in windsurfing and would like to move to foiling. There is one session per week.
Groups A, B and C, as well as Laser sailing – these are for our current sailors

Apply for Your Sailors Summer Sailing Course Here
Our summer sailing school is now full.